Falkirk man William Mailer guilty of raping young girls in Dalkeith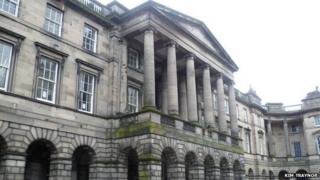 A former milkman has been found guilty of sexually assaulting three girls more than 20 years ago.
William Mailer, 71, raped two of his underage victims, one of whom he had plied with drink, and attempted to rape the third.
He had denied six charges of indecent assault and rape but was found guilty of all of them.
He was put on the sex offender's register and warned he faces jail when he is sentenced.
The High Court in Edinburgh heard that Mailer's first victim was 12 or 13 when she was attacked in a car at Holyrood Park, Edinburgh, after being given drink.
Mailer grabbed her by the neck and tried to sexually assault her during the incident which took place between 1976 and 1978.
He assaulted the girl again and tried to rape her at his former home in Dalkeith, Midlothian, when she went to pick up her school bag which he had kept.
During the same period he raped another girl, who was 11 or 12, at the house.
The youngster was plied with alcohol and while she was intoxicated and asleep he removed clothing and had sex with her. He continued to rape her after she woke up.
Mailer indecently assaulted and twice raped another underage girl during the 1980s.
'Touchy feely'
The victim, now 42, told his trial she used to go to Scotland from her home in England to stay with her grandmother.
She said Mailer was a "touchy, touchy, feely, feely person".
The woman estimated that she was about 11 when he had sex with her and about 13 when the abuse stopped.
"He just used to say things like he loved me, that I was a special little girl," she said.
"Because he told me that was what was supposed to happen I believed him," she told the court.
The woman said Mailer had carried out other sex acts with her as a child.
"Once I realised it was wrong I felt guilty and ashamed," she said.
The mother-of-two told the court: "I am not in a relationship now. I can't hold down a relationship."
Mr Stewart said that Mailer, a first offender, had a number of health problems including a heart condition.
Lord Glennie ordered background reports and said: "I should make it clear in a case of this sort it is very likely that a custodial sentence will be decided upon."