2014 Commonwealth Games track moved to Grangemouth Stadium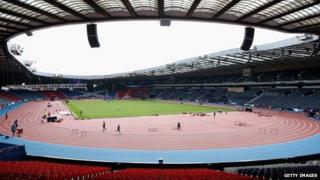 The 2014 Commonwealth Games athletics track at Hampden Park is to be lifted and moved to Grangemouth Stadium.
Falkirk Community Trust (FCT), which runs the venue, applied as part of the Games legacy programme to receive sports equipment after the event.
FCT will also receive £30,000 worth of equipment including javelins, distance markers, hammers and boxing gloves.
Work to lay the £600,000 track at its new home is expected to take about five weeks to complete.
Falkirk Council's Adrian Mahoney said: "The Games were a massive success for Glasgow and as part of the legacy programme we are really fortunate to be able to benefit from this amazing gesture.
"It means that athletes across the area can train using the best and most modern equipment on a state-of-the-art track to further develop their skills."