Police appeal directly to Orkney Italian Chapel raider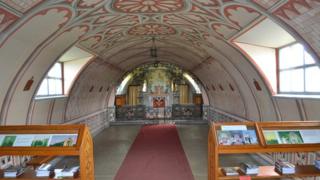 Police have appealed to a thief to return the hand-carved plaques stolen from the Italian Chapel in Orkney.
Officers have gathered new leads on the crime thanks to a "huge response" to a public appeal.
Information suggests the theft occurred between 09:00 on Wednesday, 6 August and 17:40 that Friday.
Insp Derek Robb appealed for further help and also asked the thief directly to reconsider their actions.
The chapel was built by Italian prisoners of war during World War Two, and has since become a tourist attraction.
Fourteen wooden plaques depicting the "Stations of the Cross" were gifted by the chapel's creator Domenico Chiocchetti and his wife in 1964.
The three stolen plaques are marked with the Roman numerals IV, VI and X.
The crime was previously thought to have happened at some point during a two-week window, but thanks to pictures and information submitted by the public officers have a "significantly reduced timeline".
Insp Robb said: "The huge level of response from all over the world shows the respect and affection held for this historic place of worship and the level of outrage that someone has chosen to steal from within its walls.
"We would also like to appeal directly to the person responsible to think again about their actions and to take every step to ensure the plaques are found and returned to their rightful place within the chapel."