Lorry driver jailed for drunken Dundee roundabout flip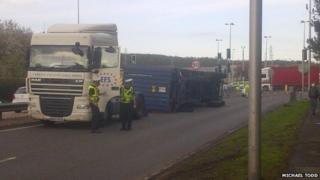 A trucker who flipped a 44-tonne lorry on a Dundee roundabout after drinking half a litre of vodka has been jailed.
Darren Moorhouse drank three quarters of a bottle of spirits as his HGV was being loaded with 23 tonnes of peat in Peterhead.
The 40-year-old managed to negotiate 100 miles of the A90 road south, before overturning his lorry on the Myrekirk roundabout in Dundee.
He was jailed for a year and banned from driving for three years.
The crash happened at rush hour on the dual carriageway through the city on 24 April.
Moorhouse was negotiating the Myrekirk roundabout on the outskirts of the city too quickly when the offside wheels of the lorry left the road, before the trailer unit detached from the tractor unit and toppled onto the road.
Police took the driver, who is from Burnley in Lancashire, to Tayside division headquarters and found he was three times the drink-drive limit.
'No explanation'
As well admitting driving while under the influence, Moorhouse admitted driving dangerously by attempting to negotiate the roundabout at excessive speed and losing control of the vehicle.
He has since lost his job, and his defence solicitor Mike Ferrie told Dundee Sheriff Court his client had "much to lose" if custody was imposed.
He said: "This incident could have presented danger not only to other drivers and himself but to pedestrians as well.
"It was fortunate that much worse did not come as a consequence of this."
Jailing him, Sheriff Richard McFarlane told Moorhouse: "You could not have been in control of that vehicle from the start of the journey.
"There's no real explanation as to why you drank so much vodka while waiting on your trailer being freighted.
"I've never come across a situation so stark."