Double win for Falkirk projects at environmental awards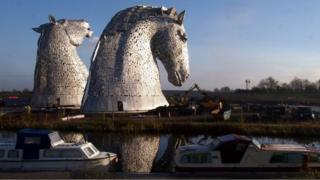 Two Falkirk green projects have come out on top at a national environmental awards ceremony.
The Falkirk Greenspace Initiative, which has planted 1.3m trees and created or upgraded 260km of paths over 20 years, won the Gold award at the Green Apple Environmental Awards.
And the £41m Helix parkland project was close behind in second place.
Falkirk Council was also honoured with the Overall Winner prize for the success of the two projects.
The Green Apple Awards is a national campaign to find Scotland's most environmentally-friendly companies, councils and communities.
The Falkirk Greenspace Initiative was set up by the council and the charity Central Scotland Forest Trust in 1993, and has restored several derelict sites in addition to planting trees and building paths.
Meanwhile the Helix project, driven by a partnership between the same two bodies and Scottish Canals, has already attracted more than 15,000 visitors after the unveiling of the Kelpies, Andy Scott's celebrated giant horse head sculptures.
Councillor Adrian Mahoney, Falkirk Council's spokesman for culture, leisure and tourism, said the "visionary projects" were a "fantastic achievement" for the local authority and its partners.
He said: "Both the Greenspace Initiative and the Helix have played a significant part in the transformation of the local environment while also linking and connecting our many communities."
And Central Scotland Forest Trust chief executive Simon Rennie said he was "very proud" of the awards.
He said: "These are both innovative projects which have transformed the local environment, creating valuable resources for local communities and dramatically improving perceptions of the area, attracting tourism and inward investment."