Second £60m A9 road dualling project contract awarded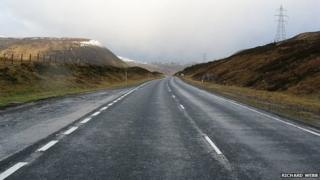 The second of three design contracts to convert the A9 to a dual carriageway has been awarded.
A contract for the 32-mile section of road between Glen Garry and the Pass of Birnam, valued at up to £60m, has been awarded to engineering firm Jacobs.
The Scottish government has committed to dualling the Perth to Inverness route - the longest trunk road in the country - "as soon as possible".
Work will start on the section of road nearest to Perth next month.
The contract to design the 26-mile stretch of road between Glen Garry and Dalraddy was awarded to joint venture CH2MHill/Fairhurst in April.
The third and final contract, for the road between Dalraddy and Inverness, is expected to be awarded by the end of the year.
Transport minister Keith Brown said the news was "another step forward" for the "mammoth project".
He said: "This multi-million pound investment also complements other work being progressed on the ground to improve the safety and performance of the A9, with the installation of average speed cameras for implementation this October.
"We remain on track to deliver half of the 80 miles of new upgraded road by 2022, with completion expected by 2025."
The £3bn project to dual the entire length of the road is the largest of its kind ever undertaken in Scotland.