New businesses 'flocking to set up in Dundee'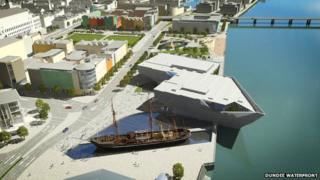 Dundee's waterfront regeneration project has been credited with a surge of new businesses in the city.
A record number of new companies were formed in the first quarter of 2014, with the 227 firms founded outstripping any quarter in the area's history.
The latest Duport Business Confidence Report for the city says firms are "flocking to set up in Dundee" thanks to the £1bn waterfront project.
However, the report also shows a 10% increase in company closures.
This means net company growth has remained exactly level when comparing the first quarters of the last two years.
Peter Valaitis, managing director of company formation agents Duport Associates, said the waterfront work was most likely behind the record number of new businesses.
He said: "With a huge regeneration project in the pipeline, it's little wonder that so many new companies are flocking to set up in Dundee.
"The next few years promise to be very exciting for the local economy."
The £1bn regeneration project at the city's waterfront will see the construction of a new train station, the £45m V&A Dundee museum, a marina and a large urban park alongside new commercial, retail and residential developments.