Royal Edinburgh Military Tattoo in tour around Scotland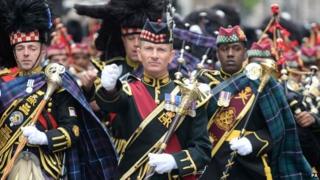 The Royal Edinburgh Military Tattoo has taken its show on the road to Stirling.
The "taste of the Tattoo" display at the Thistles Shopping Centre follows on from a performance in Glasgow last week, with another free event planned in Dundee.
About 600 performers are taking part in the touring shows, with thousands of spectators expected to turn out.
The Tattoo has sold out all tickets for its performances in the capital for the 16th year in a row.
The touring performances are part of Scotland's Year of Homecoming celebrations.
Brigadier David Allfrey, chief executive and producer of the Tattoo, said the events were a way to "share the riches" of the "stunning" show.
And VisitScotland chairman Mike Cantlay said the Tattoo was "one of the must-see events of the summer".
He said: "These taster performances are terrific news for people around the country who may not have experienced the sights and sounds of this spectacular event."
More than 1,000 performers, including 35 Zulu warriors, 40 fiddlers and 45 steel drummers are taking part in this year's Edinburgh displays.
All three Royal Marine bands are on show, along with more than 100 highland dancers.
A total of 215,800 tickets for the show's 24 performances have been sold, generating about £9.6m in box office receipts.
The next touring performance will be in Dundee on Tuesday 19 August, in the City Square from 12:30.