Researchers record earliest ever red grouse hatching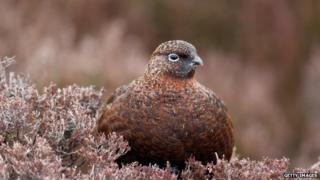 The earliest ever hatch of red grouse in Scotland has been recorded by wildlife conservation researchers.
A 20-year study by the Game and Wildlife Conservation Trust has found that the birds are laying their eggs half a day earlier every year due to warmer temperatures in April.
Researchers are now examining how this could affect other birds, including threatened species.
They have been using radio-tagged hens to measure laying dates since 1992.
The charity's Perth-based Scottish operation has been monitoring hatching sites across Strathspey.
Dr Kathy Fletcher, head of the GWCT's Scottish upland research team, said a "gradual increase" in spring temperatures, specifically in April, had caused the earlier laying.
She said: "Although warmer springs provide more plant food for the hens to get into good condition for breeding, warming in May and August may be less good for important food sources for the chicks.
"Although grouse were the only species monitored in this particular study, the climatic effects will also be relevant to other bird species some of which are of conservation concern.
"So far grouse numbers have not been affected by the temperature range reported in this study but it is important that we continue this kind of research and also expand it to other parts of the birds' range."
The latest studies will be used to help develop management practices for upland gamekeepers, determining the dates and locations for work such as heather burning.