Dare ProtoPlay video gaming festival opens in Dundee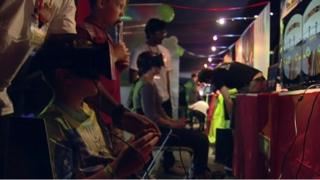 Scotland's biggest video games festival has been launched in Dundee.
Dare ProtoPlay will feature an appearance by Richard Lemarchand, the lead designer on the successful Uncharted PlayStation series, as well as the 15 student games created for the Dare to be Digital competition.
Thousands of people are expected to attend the free event to hear talks and discussion panels and try out games from new independent companies.
The festival runs from 7 to 10 August.
The Abertay University event, which attracted 13,000 visitors last year, will also feature the premiere of Us and the Game Industry, a documentary about the art of games design.
The festival was opened by Sophia George, the V&A museum's first games designer in residence, who is also showcasing her new iPad game Strawberry Thief at the event.
The game, which is inspired by the art of William Morris, will be launched later this year with the final design building on feedback gathered at ProtoPlay.
She said: "My career as a games designer all started with Dare to be Digital three years ago, so I'm delighted to be taking part in the Dare ProtoPlay festival again."
More than 30 independent companies are showing their games at the four-day event, and are competing for a £25,000 innovation prize from Creative Scotland.
Morgan Petrie, Creative Scotland's portfolio manager for technology, digital media and market development, said the festival was "an important part of the games industry in Scotland".
She added: "We're pleased to help recognise the effort that independent developers make in bringing their work to the indie fest to engage with enthusiasts - and potential developers of the future."
For the second year running, the main awards at the festival - which is held in a marquee in the city centre - are sponsored by PlayStation First, the academic development programme of Sony Computer Entertainment Europe.
Dundee is home to dozens of video game companies and is considered a hub of the industry in the UK, with classic titles including Lemmings and Grand Theft Auto having been developed in the city.