Housing development at former HMP Noranside open prison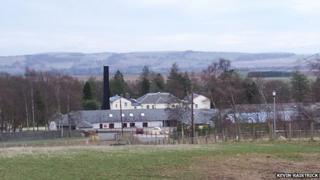 Plans to transform a listed former prison building into housing have won the backing of councillors in Angus.
Developers hope to turn the former HMP Noranside estate, which was a working prison until 2011, into 48 homes.
The plans include the demolition of cell blocks and farm buildings, while the B-listed Noranside House and the stable block would be redeveloped.
Members of Angus Council's development standards committee gave conditional approval to the application.
Inmates from the former open prison, including murderers and sex offenders, were transferred across Tayside to Castle Huntly when Noranside closed its doors in October 2011.
Noranside House, which lies between Forfar and Brechin, was built in 1766 and was listed as Category B in 1971 as a "classical mansion house".
Historic Scotland welcomed the plans, which it said would provide "breathing space" between the mansion and the proposed new housing.
Reporting to councillors, Angus Council head of planning Vivien Smith said the development would bring "significant conservation benefits through the restoration of listed buildings and redevelopment of a large vacant and derelict brownfield site".
Conditions of the application's approval included that detailed archaeological and photographic surveys should be carried out place prior to any demolition or development, along with a contaminated land investigation report.
It was also recommended that demolition of the cell blocks and other buildings should take place in late summer, to ensure the survival of pipistrelle bats which nest there.