Contents of WW1 Dundee posties' time capsule revealed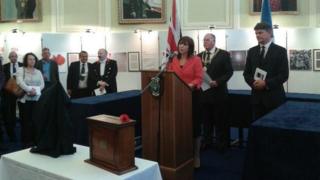 A time capsule put together by Dundee postal workers to commemorate World War One has been opened.
The contents of the lead-lined casket, sealed in 1921, were revealed at a special ceremony at the City Chambers.
Newspaper clippings, a post office magazine and photographs of dignitaries and visits by Princess Mary and Winston Churchill Dundee were among the artefacts enclosed in the oak box.
Letters to the Lord Provost and postmaster were also included.
The capsule was held in the care of city postal workers for 93 years, before it was handed over to the city last month.
It then went on display at The McManus, Dundee's art gallery and museum, until the day of the opening ceremony.
A plaque mounted on the front of the "Dundee Postal War Memorial" said the capsule should be opened by the Postmaster, in the presence of the Lord Provost, on 4 August 2014.
While the city no longer has a postmaster, Deborah Rodger, the Royal Mail delivery director in charge of postal collection and delivery services in Dundee, was on hand to help reveal the contents.
She said it was a "very proud and poignant" moment.
She was assisted by Lord Provost Bob Duncan, Dr John Halliday of the High School of Dundee, where the 1921 post office building is now located, and amateur historian Janice Kennedy, whose family research helped uncover the casket.
A large crowd of people with family or work connection to the "postal workers' shrine" also attended the ceremony.
As well as an edition of the Dundee Courier, the Scottish Amateur Swimming Association Handbook 1921 and a copy of that year's Post Office magazine, the capsule contained a large number of newspaper clippings, including Dundee Hibernian football match reports.
A total of 240 Dundee postal employees served in World War One, 36 of whom died.
Sealed letters to the present-day Lord Provost and postmaster from their 1921 counterparts were inside along with an essay on the League of Nations, addressed to the youngest member of the education authority in 2014.
Mr Duncan said: "The story of this capsule provides a fascinating insight into Dundee's history and the role that postal workers played throughout the First World War.
"At this time of remembrance to mark a century since the outbreak of the war, we have a poignant reminder in Dundee of the sacrifices that were made."
The contents of the time capsule will now go on show at The McManus.
The story of Janice Kennedy's quest to track down the memorial box can be heard in full on Radio Four's iPM programme.