Seven rescued from block of flats in Blairgowrie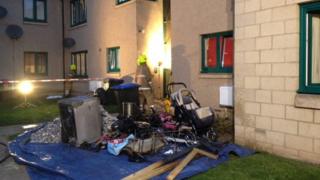 Seven people had to be rescued after a fire broke out at a block of flats in Perthshire in the early hours of the morning.
The Scottish Fire and Rescue Service was called to Coralbank Crescent, Blairgowrie, at about 03:15.
Residents had to be led to safety down a ladder from a first-floor window after the blaze broke out in the stairwell.
The fire appeared to have spread through rubbish stored in the close.
Two crews from Blairgowrie and a third from Alyth attended the scene after the alarm was raised.
Firefighters used breathing apparatus and a hose jet to extinguish the flames after helping residents to safety.
Escape routes
Emergency accommodation had to be provided for residents of four flats because they were so heavily smoke-logged.
Scottish Fire and Rescue Service group manager Graham Smart said the incident highlighted the dangers of leaving flammable materials in common closes.
He said: "If items are left near doors then escape routes can be blocked and on this occasion we had to help residents out using a ladder as their normal escape route had been compromised.
"There is no doubt the fire escalated due to the fact that combustible materials had been stored in the close.
"This fire had the potential to be even more serious given the amount of material in the close."
Did you take any pictures - still or moving - of this fire? Send them to the BBC Scotland news website at newsonlinescotland@bbc.co.uk
Please ensure when filming or photographing an incident that you make your safety and the safety of others a priority.
If you submit an image, you do so in accordance with the BBC's Terms and Conditions.