Time capsule inserted into 150-year-old town fountain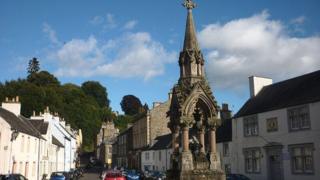 A time capsule has been inserted in a 150-year-old town fountain during a major refurbishment project.
The National Trust for Scotland is supporting the conservation repair work nearing completion at the Atholl Memorial Fountain in Dunkeld.
The trust took the opportunity to insert a time capsule into the Gothic revival-style fountain's hollow spire.
Celebrations are planned for the landmark's 150th birthday in 2016.
The fountain, built in 1866 in memory of the 6th Duke of Atholl, was an outlet for the first piped water supply to Dunkeld.
After recent vandalism, the National Trust, which took ownership of the fountain in 1991 on behalf of the community, commissioned a study into its condition.
A 12-week restoration project has been carried out to clean the stonework, repair cracks and completely remove, repair and replace two of the stone pillars holding the top of the structure in place.
As the spire was being reconstructed, the trust took the chance to lower a time capsule into the structure to commemorate the past, present and future of the fountain.
It had been claimed a bottle of whisky was walled into the fountain when it was last repaired in the 1970s, but the stonemasons were disappointed to find no sign of it - and resolved to rectify the situation.
The trust's Ben Notley said: "The capsule contains an item from the National Trust for Scotland, a commemoration of the Birnam Highland Games, who are celebrating their 150th anniversary, a Commonwealth Games baton relay poster, a few mystery items and, of course, a wee something for any future stonemasons who work on this part of the fountain.
"We want to ensure they're not disappointed next time."