Stirling salon fire wife killer to appeal against conviction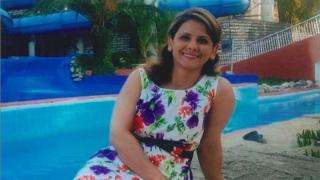 A man who was jailed for life for burning his ex-wife to death is to appeal against his conviction.
Ahmad Yazdanparast was sentenced to a minimum of 19 years after his High Court trial last month.
The 61-year-old was convicted of murdering 46-year-old Adieh Khayatzadeh, his former wife, who suffered burns to 95% of her body in the attack in Stirling in October.
Yazdanparast maintained his innocence even as he was led away to the cells.
Lady Wise told Yazdanparast his crime was "premeditated and callous" and "the most horrific attack imaginable" at the conclusion of last month's trial.
The court was shown CCTV footage of the kebab shop owner buying fuel from a local petrol station before entering the basement salon operated by Ms Khayatzadeh, a mother of three.
Hand-written cards in English and Farsi were found scattered around the Venus Hair and Beauty salon reading "enough is enough" and "game is over", accusing the mother of three of "doing adultery".
Yazdanparast doused Ms Khayatzadeh in petrol and set her on fire before running out into the street and collapsing with burns sustained when the petrol vapour ignited.
A paramedic told the court that Ms Khayatzadeh was conscious when she was brought out of the shop with "horrendous" injuries and said she told him that her husband had done it "because she had divorced him".
Yazdanparast, who had a previous conviction for attacking his wife, claimed he had acted in self-defence after being assaulted.
His legal team have now lodged papers for an appeal against his conviction and sentence with court staff in Edinburgh.
The case is expected to call at the Court of Criminal Appeal within three weeks.