Final T in the Park festival at Balado gets under way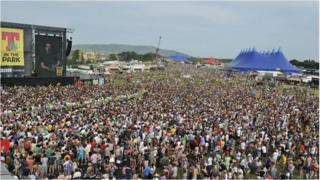 Revellers are flocking to T in the Park for the festival's last year at Balado.
Scotland's biggest music festival gets fully under way later, with 85,000 fans expected to attend and thousands already setting up camp.
The event is set to move across Perthshire to Strathallan Castle from next year, after health and safety concerns were raised about an oil pipeline at Balado airfield.
Biffy Clyro, Arctic Monkeys and Calvin Harris are the headliners.
Ed Sheeran, Paolo Nutini, Ellie Goulding, Pharrell Williams and Manic Street Preachers are among the other acts set to perform.
A mixed weather forecast has been issued for the weekend, with sunshine and high temperatures on Friday contrasting with rainy spells on Saturday and cloudy skies on Sunday.
The annual festival has been staged in Kinross-shire since 1997, but will move to Strathallan Castle near Auchterarder from next summer.
"Substantial" concerns were raised by health and safety inspectors about the Forties pipeline, which carries North Sea oil south to Grangemouth under part of the Balado site.
And this week the festival's organisers announced a crackdown on so-called "legal highs", warning that they will be confiscated from anyone found with them.
A spokeswoman for DF Concerts said the substances could cause "serious harm" or even kill.