Family recycling firm fined for Perth rubbish blaze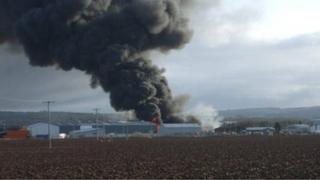 A family recycling company has been fined for causing a massive fire in 700 tonnes of rubbish.
The fire at Wyllie Recycling on the outskirts of Perth in February 2012 was started after batteries were dumped along with rubbish.
An explosion sent shrapnel flying 40ft in the air and black smoke from the fire could be seen 20 miles away.
The company was fined £6,000 after admitting four charges relating to waste storage rule breaches.
Ten fire engines were sent to the recycling yard on the Inveralmond Industrial Estate when the fire broke out on 17 February, 2012.
Perth Sheriff Court heard that workers at the site had dumped batteries, which the firm was not licensed to deal with, rather than moving them to a safe area.
Scottish Fire and Rescue Service crews found 55 lithium batteries at the seat of the blaze.
Members of the public who gathered to watch the fire spread had to sprint to safety when a canister exploded, sending shrapnel flying 40ft through the air, with one large piece of metal ripping through the warehouse roof and landing in the field where watchers had been standing.
'Dangerous situation'
Ronnie Renucci, counsel for Wyllie Recycling, said the fire had "brought home to the company that the procedures in place at the time were not as rigorous as they should have been".
He added: "The company has undergone root and branch reform."
He told the court the family owned business employed 25 people and had been put into a financially difficult position as a consequence of "errors" made by staff.
Sheriff William Wood said: "The particularly concerning feature of this case is not so much the fire, as the potential for loss of human life. It's a fact that where there's a fire when people are working it is a dangerous situation.
"The company did not fully understand its obligations. It has been a significant warning shot.
"I take into account the size of the company and the fact they have taken significant steps to improve overall performance."