Historic jute mill restored as part of Verdant Works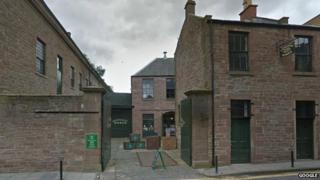 Work has started on a £2.9m project to restore a historic Dundee jute mill.
The High Mill is being restored by the Dundee Heritage Trust as an expansion of the Verdant Works museum.
The project to sympathetically restore the A-listed factory building will double the size of Verdant Works and provide new exhibition and education spaces.
Work at the mill, which is supported by the Heritage Lottery Fund and Historic Scotland, will take 50 weeks.
The wooden floor of the currently derelict mill is to be removed, creating a cathedral-like space to reveal the scale of the building's architecture.
Extra exhibition space created by the project will house historic objects including a 1801 Boulton and Watt steam engine.
The main building work is being carried out by city firm George Martin Builders, and many other members of the professional team are also from local companies.
Mark Munsie, operations director for Dundee Heritage Trust, said he was "very pleased" to be working with local firms.
He added: "Everyone involved with the Trust is delighted that work has finally begun on site - it is such a boost to the morale of our staff and volunteers who have seen the sorry state of the buildings in recent years."
And Martin Fairley of Historic Scotland was "delighted" that the mill would be "restored to its former glory".
He said: "The Verdant Works High Mill is a building of national importance with a wonderful history - which is why it was listed at Category A.
"We hope that many people from Scotland and further afield take advantage of the opportunity to visit and learn about Scotland's textile heritage."