New Dundee waterfront sites available for development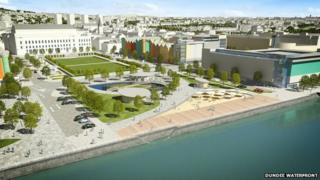 Up to one million square feet of land in the heart of Dundee's waterfront has been released for development.
The £1bn redevelopment of the area has moved ahead of schedule, with the four sites being made available in response to high demand.
Projects planned for the waterfront include a new train station, a £45m branch of the V&A museum and a commercial and leisure marina.
A further 500,000 sq ft of land is to be released in 2016.
The combined area now available for development is the size of more than 13 football pitches.
The team behind the project are looking for a mix of office, leisure, retail and hospitality developments, along with ground floor units such as cafes, bars and restaurants.
It is estimated that once fully developed, the central waterfront will support nearly 5,000 jobs.
Mike Galloway, director of city development at Dundee City Council, said the level of interest in the project was "very encouraging", and had prompted the early release of the land.
He said: "The growth in leisure and tourism spend alone will generate very attractive opportunities for hospitality, visitor attraction and support sectors such as transport and catering.
"The release of this land will broaden the range of development choices and will, we hope, be well received by the business community."
There are plans for five additional hotels in the waterfront area, to meet an expected surge in visitors between 2015 and 2025 which is forecast to bring in £1bn in tourism spending.
The V&A Dundee alone is projected to attract up to 500,000 visitors in its opening year in 2017.
A spokesman for the waterfront project said there had been "extensive interest from a wide variety of businesses, investors, developers and individuals".