'Legal high' substances crackdown at T in the Park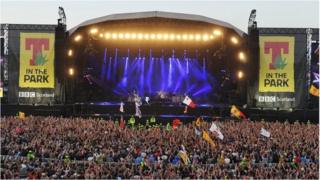 Revellers caught with "legal highs" at this year's T in the Park festival will have them confiscated.
The festival's organisers have joined a crackdown on the substances, which will not be permitted at the Balado site.
DF Concerts warned festival-goers that the herbal or legal highs could cause "serious harm" or even kill.
The Scottish government has set up an expert group to look at tackling the supply of the substances, which have been linked to dozens of deaths.
A statement from DF Concerts read: "It is important that music fans understand that 'legal' does not mean 'safe', and that these substances can cause serious harm especially when mixed with others such as alcohol.
"The terms 'legal high' and 'herbal high' are often misleading as many of these substances are not meant for human consumption and can kill."
Legal highs are often labelled and sold as plant food or bath salts, or are marked as not fit for human consumption.
Hundreds of people have been admitted to hospital in Scotland over the last five years after taking the chemicals.
Synthetic chemicals
The festival ban was welcomed as "great news" by Dr Richard Stevenson, specialty doctor in emergency medicine at NHS Greater Glasgow and Clyde.
He said: "The dangers of these products should not be underestimated. It is difficult for clinicians to treat cases of unknown intoxication caused by these products as most are synthetic chemicals that are not easily identifiable with routine testing.
"We need to inform young people of the dangers that these products pose as it is often assumed that because the products are freely available and marketed as a 'legal high' that they are therefore relatively safe."
Balado, near Kinross, is hosting T in the Park for the last time at the weekend, with the festival set to move across Perthshire to Strathallan Castle due to health and safety concerns about an oil pipeline at the current site.
The event is being headlined by Biffy Clyro, Arctic Monkeys and Calvin Harris.