Appeal to be lodged in three-year battle over soldier burial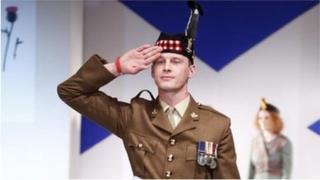 A legal battle over the burial of a Black Watch soldier who died in 2011 is set to continue.
Pte Mark Connolly's body has been kept in a morgue in London for the last three years as his wife and mother went to court over where he should be laid to rest.
His wife Stacy won her civil case for the right to bury him in Forfar last month, but his mother, Linda McComiskie, plans to lodge an appeal.
The matter will now go back to court.
Pte Connolly, who was wounded in a Taliban bomb blast while serving in Afghanistan, died aged 24 after being punched in a bar fight while stationed in Germany in May 2011.
Ms McComiskie, who wants to bury her son in the family plot in his native Fife, was heavily criticised in the judgement at Forfar Sheriff Court last month, which ruled in Mrs Connelly's favour.
Sheriff Valerie Johnston said the soldier's mother had "thought only of herself and how she had been overlooked".
She added: "This is a battle waged by her to achieve the result she wants, with little regard for the body of her son languishing in storage in London for over three years."
Ms McComiskie's solicitor, Tony Anderson, is understood to have lodged a notice of intent to appeal the ruling.
The case is expected to go before the Sheriff Principal of Tayside, Central and Fife at a later date.