University to study impact of World Cup on children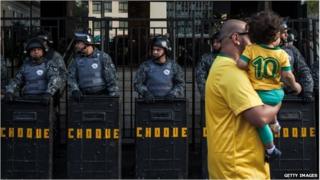 A Scottish university has teamed up with colleagues in Brazil to study the effect of hosting the World Cup on the country's children.
Scholars at Dundee University have set out to examine the impact of the tournament on the local population.
Working alongside the Pontifical Catholic University in Rio de Janeiro, they are examining potential human rights violations towards children.
Their findings will be reported later this year.
Protests were held in Brazil in the run-up to the tournament and during the opening matches, mainly focused on the amount of public money spent.
The university study arose out of an expert consultation, which the Dundee team contributed to, in Geneva in March that looked at human rights violations during major sporting events.
Dr Lorraine van Blerk, of Dundee University's School of Environment, and her team will be working with organisations on the ground in Brazil to collect reports and statistics and document human rights violations.
She said: "Sporting mega events like the World Cup have a huge impact on the countries which host them, but unfortunately that can also include negative effects, particularly for some of the most marginalised in society.
"Heightened security, construction work, environmental improvements of city areas and other factors all impact on populations, such as street children.
"We saw this in the last World Cup in South Africa and every big sporting event such as this or the Olympics is inevitably preceded by stories of effects on the local population."
The World Cup final will be played in Rio de Janeiro on 13 July.