New Imax screen set to open at Perth Playhouse cinema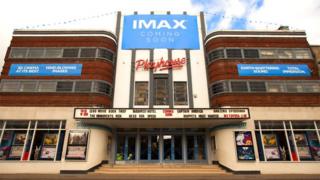 A new Imax screen is to open at Perth's Playhouse cinema on Saturday.
The giant screen, which is 60% larger than the historic Murray Street cinema's previous screen, was lowered into position using a special hoist.
It will open on Saturday with several showings of US blockbuster Transformers 4.
The new screen is part of a £60m investment in the town and region aimed at attracting more visitors and tourists.
Designed by Kingussie architect Alexander Cattanach Jr, the seven-screen Playhouse first opened in 1933.
The B-listed art deco building remained open throughout the installation of the new screen, the first Imax in Scotland north of Edinburgh and Glasgow and the first in an independent cinema in the UK.
The development came after cinema owners G1 Group struck a deal with the Imax Corporation.
Ken Creelman, the group's cinema development director, said he was "thrilled" the new screen was set to open.
He said: "A great deal of investment is being injected into Perth over the next five years so we hope this will be the start of many other exciting ventures to come to the city.
"We've put a lot of work into turning the Playhouse back into a must-see attraction for both locals and tourists coming from further afield."
Andrew Cripps, presidents of Imax in Europe, the Middle East and Africa, added that the firm was "excited to be a part of the evolution of the historic Perth Playhouse".