HMRC seize 1.5 tonnes of tobacco in Tayside raids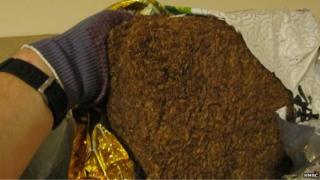 Four Tayside men have been arrested after 1.5 tonnes of tobacco and 30,000 cigarettes were seized in raids.
HM Revenue and Customs officers and police searched six private and business addresses in Dundee, Arbroath and Blairgowrie on Wednesday.
The suspected illicit tobacco seized is worth more than £360,000 in lost duty.
Two Dundee men aged 28 and 24 and two from Arbroath aged 51 and 27 have been charged under the Customs and Excise Management Act 1979.
Tobacco shredding machinery and 50 boxes of counterfeit packaging were also recovered in the raids.
Joe Hendry of HMRC's Criminal Investigation department urged anyone with information about suspect alcohol or tobacco to come forward.
He said: "Tobacco smuggling is organised fraud on a global scale, encouraging and supporting criminality within our communities and robbing taxpayers of billions each year in unpaid duty and VAT."
The four men have been released pending further inquiries and a report to the procurator fiscal.