Traffic and travel warnings over Stirling's Big Weekend event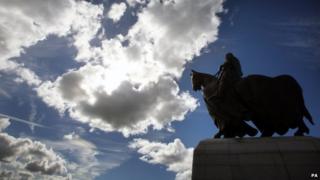 Organisers of Stirling's Big Weekend event have issued a fresh warning of potential traffic and transport problems over the weekend.
Tens of thousands of spectators and performers will bring the city to a halt for three days of entertainment.
Visitors are being urged to use public transport with only extremely limited car parking available.
Events include Pipefest on Friday, Armed Forces Day (Saturday) and Bannockburn Live (Saturday and Sunday).
Council chief executive Bob Jack said: "We're expecting tens of thousands of people to visit Stirling for the Armed Forces Day National Event alone.
"The best way to ensure you, your family and friends get the most out of the events is to arrive early.
Spectacular occasion
"We also want visitors to pre-purchase parking spaces in advance to make sure they don't miss out on this spectacular occasion."
More than 1,000 pipers, drummers and clan members will kick off the weekend by marching from Stirling Castle for the Pipefest event.
Visitors from all over the world will take part in the procession through the city streets to commemorate the 700th anniversary of the Battle of Bannockburn.
A parade of serving military personnel and cadets - joined by over 1,000 veterans - will be the highlight of Armed Forces Day on Saturday.
Meanwhile, some of Scotland's leading folk and contemporary musicians will perform at Bannockburn Live.
Bannockburn Heritage Centre will also be the venue for battle re-enactments and events throughout the weekend.