Police appeal after Peter Pan author's grave vandalised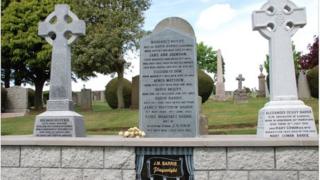 Police are investigating vandalism at the grave of Peter Pan author JM Barrie in Kirriemuir.
The playwright and author is buried in the family plot in the Angus town, which also features a museum dedicated to Barrie and a statue of his most famous character.
Sometime between Friday, 20 June and Wednesday, coping stones were pulled from the memorial wall at the grave and moved around.
Officers have appealed for information.
One local community officer tweeted that she was "disgusted" by the crime.
Sir James Matthew Barrie was born on 9 May 1860 in Kirriemuir, and is best remembered as the creator of Peter Pan.
He was made a Baronet by George V in 1913, and before his death gifted the rights to Peter Pan to the Great Ormond Street Hospital, which continues to benefit from them.
Although he died in London in June 1937, he wanted to be buried alongside his parents in the family plot in Kirriemuir - and the cream of London high society turned out at the local town church for the service.
The house he was born in on Brechin Road is maintained by the National Trust as a museum, and features a bronze statue of Peter Pan in the garden.