Future of Perth City Hall to be decided in six months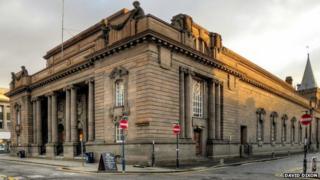 A six-month deadline has been set in a bid to finally decide the future of demolition-threatened Perth City Hall.
Perth and Kinross Council wants to tear the listed building down to make way for a city square.
However councillors agreed to publicly market a 125-year lease for the former concert hall to settle whether a realistic alternative exists.
A planning application was approved last month to convert the Edwardian hall into a hotel.
The Seventy Group, which lodged the plans, is yet to secure the lease for the building or submit a formal business plan, but is expected to make a bid before the deadline.
Another bid is likely from the Perth City Market Trust, which previously made an unsuccessful approach to convert the building into a food hall.
The local authority also has a listed building consent application in the pipeline to demolish the building, which will be put on hold for the next six months.
Demolition plan
A long-running battle has been fought over the future of the hall since it was closed in 2005, when a modern new concert hall opened in the city.
Historic Scotland blocked a move from the council to tear down the hall in 2012, but the council hopes it will withdraw its objection should no firm plans be agreed upon before the six-month deadline.
Offers for the lease on the hall have to be supported by a full business case, demonstrating a commercially viable plan that can be delivered without public subsidy.
A report to councillors by David Littlejohn, the authority's head of planning and regeneration, said the fact planning permission had been granted to the Seventy Group showed "that potentially there may be a viable project" other than demolition.
He added: "As other interested parties continue to believe they also have viable projects, a reasonable course of action would be to re-market the building for a period of time and assess the viability of any submitted offers."
He noted that Historic Scotland "would agree that the process cannot be allowed to perpetuate itself" should none of the proposals prove deliverable.