Abertay University to offer "fast track" degree courses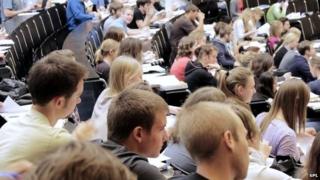 A Dundee university is to become one of the first in Scotland to offer full honours degrees over three years.
The new optional structure is being trialled on seven degrees at Abertay University.
The "fast track" degrees include exactly the same content as conventional studies, but with more weeks in the year for students.
Students who enrol on one of the pilot courses in September could graduate in 2017, 11 months ahead of their peers.
Market research carried out by the university indicated support for the accelerated timetable, with students keen to get to the jobs market faster, with less student debt.
Queen Margaret University in Edinburgh offered a three-year Business Management honours degree in 2012. Abertay is now to trial accelerated programmes across seven degree courses.
Students starting any of the degrees which are piloting the programme - Business Studies, Computer Arts, Computer Games Application Development, Ethical Hacking, Food and Consumer Sciences, Game Design and Production Management, and Sports Development - will study at the same pace as their peers for the first two years, before having the choice to go "fast track".
'Faster pace'
The normal student year comprises two 15-week terms of study, but those who choose the accelerated programme would add a further term to the end of their second year, before studying for three terms and a total of 45 weeks in their third and final year.
This would see students who enrol this September graduate in August 2017, 11 months ahead of those on conventional programmes.
Professor Nigel Seaton, Principal of Abertay University, said the courses were designed "with careers in mind".
He said: "The accelerated degree has exactly the same learning outcomes, quality standards and academic standing as the traditional four-year programmes.
"By delivering it at a faster pace, we can offer our students more choice, creating alternative degree pathways which we believe will suit the needs of some of our students.
"Our new accelerated degree programmes are an exciting and radical, but also an essentially logical and natural step."