Hospital closed by boiler fault for two months re-opens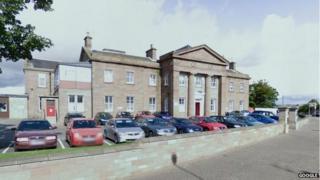 A Tayside hospital shut down by a boiler fault and "environmental issues" has re-opened some wards.
Montrose Royal Infirmary suffered a series of problems, from soot blowing through filter system to the loss of heating and water, after the fault on 24 April.
Inpatients and services had to be transferred to other local facilities.
The maternity unit at the hospital is now operational again, and the GP unit should re-open within four weeks.
Dr Margaret McGuire, nurse director at the hospital, said: "We opened the community maternity unit at Montrose on Monday and ante-natal and post-natal clinics have been running all week.
"The midwifery team have also been working hard to recommission the unit and I am very pleased to say that the unit will return to fully operational status for births from Saturday."
Medical director Dr Andrew Russell said it would take some time to make sure the hospital was "absolutely safe" for patients.
He said: "Environmentally we have been dealing with quite complex issues in a number of systems, including the water, heating and filtration systems.
"Therefore, we would like to have the maternity unit at the infirmary up and running 24/7 for a couple of weeks to ensure the resilience of the environment before we start readmitting inpatients into the GP unit."