Racist firebug jailed for four years over Alloa blaze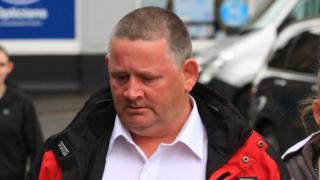 A convicted racist who set fire to the home of three Asian men has been jailed for four years.
John Hoggan will also serve a two-year extended sentence for the drink-fuelled attack in Alloa.
The 53-year-old stuffed a burning rag soaked in petrol from a garden strimmer through the door of Tara Singh's house.
Hoggan, who previously made racist threats to kill Mr Singh, was also banned from approaching him for eight years.
A four-day trial at Stirling Sheriff Court heard Hoggan had downed vodka and beer before draining petrol from the strimmer prior to the night-time attack in January 2013.
Previous convictions
Hoggan had developed a grudge towards 38-year-old Mr Singh after his former girlfriend Siobhan Hanlon left him for the younger man.
Shortly before the attack, he told Miss Hanlon, "I'm going to get him - I want to get him".
The occupants of the property on Earls Court, minutes from Hoggan's own home, only escaped because Mr Singh woke up by chance and found the house he shared with Zubair Yousaf and Jahan Tayyad filling with smoke and flames.
The former Alloa shopkeeper, speaking through an interpreter, he said he had woken up because he needed to go to the bathroom, and heard a smoke alarm going off.
He said: "I could see flames in front of me, downstairs, inside the front door. There was a lot of smoke -- you couldn't see anything, but you could see the flames."
Although Hoggan denied the offence, a jury took less than 90 minutes to find him guilty of endangering the men's lives by wilful fireraising, with malice aforethought.
'Aggravating factor'
An aggravation to the charge, stating that Hoggan's actions were motivated by racial prejudice, was found not proven.
However after the verdict was returned depute fiscal Vicky Bell revealed that Hoggan had seven previous convictions - including one for making racist threats to kill Mr Singh.
Sheriff Wyllie Robertson said the fact the racial aggravation charge was found not proven was "of little moment" due to Hoggan's previous racist convictions.
He told him: "Your record discloses previous animosity to Mr Singh in particular and that is a considerable aggravating factor to the charge you face today."
As well as jailing him and imposing an extended sentence, the Sheriff imposed an eight-year non-harassment order, barring Hoggan from contacting Mr Singh or entering Earls Court.