Kitten named Official Mouser at Glenturret distillery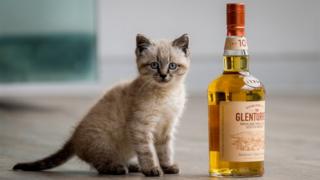 A Scottish whisky distillery more famed for grouse than cats has appointed a new Official Mouser.
Eight-week old kitten Peat has taken up the position at the Glenturret Distillery, home of the Famous Grouse.
Peat follows in the pawprints of Towser, one of the world's most famous distillery cats, who still holds a Guinness World Record for catching 28,889 mice over 24 years.
The distillery cat is expected to greet visitors as well as hunt down mice.
Peat replaces Barley, a resident tomcat who disappeared last winter and has not returned despite repeated attempts to find him by distillery staff.
The kitten has the freedom to roam the Glenturret distillery grounds and the new Famous Grouse Experience visitor centre, where Towser's official record certificate is on display.
The famed champion mouser is also commemorated by a bronze statue at the Crieff distillery.
Lesley Williamson, business development manager at the Famous Grouse experience, said while the team were "very sorry" to lose Barley, they were "truly delighted" to welcome Peat to the family.
She added: "The fluffy little bundle has already been charming his way into our visitors' hearts this week.
"He's already made himself at home in our new tasting bar and is showing signs of settling in nicely."
The new visitor centre was opened by the Duke and Duchess of Cambridge last month, and is expected to welcome 100,000 tourists a year.