Scottish canal towpath network receives £1.3m upgrade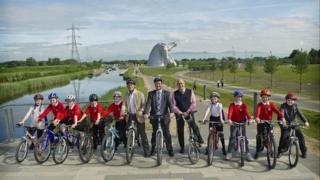 A new towpath leading to the Kelpies sculptures off the Forth and Clyde Canal has been unveiled.
A partnership led by Scottish Canals has invested £1.3m in upgrading the towpath network across the country.
Towpaths connect to more than 250 miles (400km) of cycle paths across the country that have seen an upsurge in usage in recent years.
Transport minister Keith Brown said the investment would boost cycling and walking and link rural communities.
Towpaths at seven locations across Scotland have been upgraded to an all-weather surface over the last year, the latest step in a five-year, £5m programme led by Scottish Canals to upgrade the pathways.
And the new route leading to the Kelpies, the towering horse-head sculptures opened this year as part of the £43m Helix project, links more than 16 miles of pathway in the 350 hectare parkland near Falkirk.
Use of cycle paths in Scotland has increased 300% over the last eight years.
Mr Brown hoped the new towpath would encourage more people to walk and cycle along the country's canal network.
"I also welcome the £1.3m investment by Scottish Canals and partners over the last 12 months for the upgrading of Scotland's towpaths network, which will provide active travel routes and help to link rural communities," he said.
Sustainable transport charity Sustrans has invested £700,000 in the project, while Falkirk Council invested £240,000, Glasgow City Council contributed £175,000 and West Lothian Land Trust invested about £90,000.
The Helix and Scottish Canals also contributed about £130,000 to the project.
Scottish Canals chief executive Steve Dunlop said the new Helix path was "a fantastic addition to Scotland's canal system".
"The nation's towpaths are busier than ever and, as well as being important destinations for leisure, tourism and commuting, they play a vital role in the communities they run through," he added.
"By working with our partners to improve our towpaths, we hope to encourage even more people to explore Scotland's canals by boot, boat and bike."