Pollution may be causing a fall in Scottish baby boys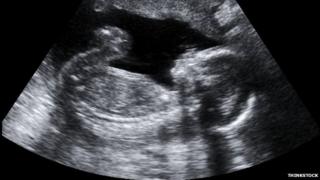 Industrial pollution may be behind a drop in the number of boys being born in Scotland, scientists believe.
The authors of a Stirling University study found that the ratio of boys to girls being born is falling.
Evidence suggests male babies are more likely to die in the womb than females - and pollution in parts of Scotland could be exacerbating this.
The findings have been published in the International Journal of Occupational and Environmental Health.
Normally, in Britain and across the world, slightly more boys are born than girls.
However statistics show that the proportion of boys to girls being born in Scotland, or the sex ratio, has been on a downward trend since 1960 - and in the industrial parts of central Scotland in particular.
Analysing data from 1973 through to 2010, the team found a "significant upward skewing" of the sex ratio in the Highlands, compared with a downward shift in the Forth Valley and the Borders.
The Forth Valley was in the bottom three places in Scotland in four out of five years where a notably low sex ratio was recorded. In one year in the area east of Rutherglen, 230 females were born to 188 males.
The researchers, led by Dr Ewan McDonald and Prof Andrew Watterson, wanted to discover what was behind this trend, with socio-economic background and pollution levels the key suspects.
Their study focused on central Scotland due to it having a mix of heavily industrialised areas, including major sites of pollution such as the Longannet coal-fired power station and heavy industrial sites in Grangemouth, as well as rural areas with low pollution levels.
The study area - covering Falkirk, Stirling, North and South Lanarkshire, Clackmannanshire and Fife - also contains a mix of urban and rural areas, offering a diverse mix of socio-economic backgrounds.
And, while their results did find that the wealthiest communities in the country were more likely to have boys, the clearest link discovered was to pollution - specifically endocrine disruptor pollution.
Endocrine disruptor pollution comes from substances that in certain doses can affect hormones, potentially causing birth defects or even stillbirths.
'National decline'
Regional trends since 1973 showed a "significantly lower" sex ratio for communities where industrial air pollution is highest, in eastern central Scotland.
This discovery backed up small studies in heavily industrialised areas of Canada and elsewhere in the world.
Dr McDonald, the principal investigator in the study, said the results "indicate that endocrine disruptor pollution in central Scotland may contribute to the national decline in the proportion of male births".
Co-investigator Prof Andrew Watterson added that the findings raised important questions about what might impact on reproductive health and how public health policy is shaped.
"We run faster and faster introducing new products and processes," he said. "Yet we don't properly understand how they may affect us.
"We lack full toxicity data sets on many chemicals in our environment, but proposed Scottish and English developments may introduce more endocrine disruptors.
"Great care is needed in approving and regulating such developments when we lack the necessary information to assess their risks adequately."