Dare to be Digital games design competition launched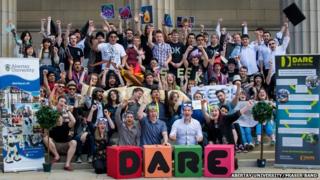 An international competition for students to design video games is underway in Dundee.
Hundreds of teams are expected to enter Dare to be Digital and bid to build a working game prototype in eight weeks.
This year's competition was launched by Sophia George, the V&A museum's Games Designer in Residence and a former Dare to be Digital winner.
Games by the 15 finalists will go on show to the public and industry experts in August.
The three main awards at the competition, run by Abertay University, are sponsored by PlayStation First, the academic development programme of Sony.
Teams from across the globe have travelled to Scotland for this year's contest, from as far afield as China, India, Malta and the USA.
Fifteen will be chosen to develop games, which the public get the chance to play at the Dare ProtoPlay festival in August, also in Dundee.
Three winning teams are then put forward to compete for a Bafta Ones to Watch Award.
'Incredibly tough'
Sophia George's team won that award in 2012 after triumphing in the previous year's Dare to be Digital contest.
Last year she was named the Games Designer in Residence of the V&A museum, which is building a £45m new outpost in Dundee.
She said: "Dare to be Digital was the first opportunity I had to work with a team to build a complete game, and it changed my life.
"All of the 15 teams who are spending the summer at Abertay University building a brand new game face an incredibly tough challenge, but when they put their games on show at the Dare ProtoPlay festival in August they will be ready for a career in games."
Dr Maria Stukoff, head of PlayStation First, said the competition helped nurture "talented game developers who understand the complexities of making working game prototypes.
She added: "We want to make sure we take an active role in the future of the UK's game development industry, and Dare to be Digital is a central part of the UK's seeding programme."