Only one Kirriemuir resident backs Bon Scott statue in survey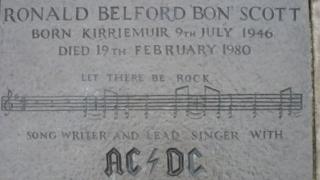 A council survey has uncovered strong opposition to a statue of the singer from AC/DC in an Angus town square.
Kirriemuir residents have long campaigned to raise a memorial to local man Bon Scott in the village.
However the council found 78% of the 122 residents surveyed against the idea of placing the statue in the square - with just one person in favour.
Local authority officers are to discuss the results with the group raising funds for the statue.
A report to the Kirriemuir Conservation Area Regeneration Scheme steering group concluded that there was "an obvious consensus of dislike" and a "clear majority opinion" against the proposed statue of the rocker, who died in 1980 aged 33.
Concerns voiced by respondents included the idea that Mr Scott is "no role model", and worries that the square already houses a statue - of Peter Pan.
It was also noted that if the statue was to be erected in the square, the town Christmas tree would have to be shifted from its traditional location.
The survey also found most residents neutral to the idea of having a bus shelter in the square.
The town already has a plaque commemorating Mr Scott, and local group DD8 Music had been raising money to raise a statue.
The steering group will now consult with DD8 Music to decide if the statue could be raised elsewhere in the town, and if a new feature should be designed in its proposed location in the square.