Quest for world's best jam launched at Jampionships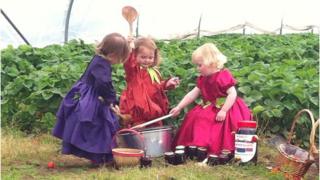 The fourth annual World Jampionships has been launched in a bid to find the world's best jam-maker.
Conserve cooks are to face off across a range of categories to claim the title for making the world's best jam.
Last year entries were sent in from across the planet, with jars from the USA, Germany and Singapore facing off against more local Scottish spreads.
Celebrity chef Nick Nairn will present prizes to the winners at the Dundee Flower and Food Festival in September.
This year's World Jampionships includes 12 classes of jam entries, ranging from traditional varieties like strawberry and blackcurrant, to more exotic flavours like chocolate and savoury jams and the Merry Berry alcoholic jam category - which has previously inspired a pina colada jam.
There is also a special class for jelly entries.
Categories include first-time jam-makers, team entries, hospitality businesses, worldwide members of women's institutes, a Junior Jam children's category, and for the first time a category aimed at finding male jam-makers, titled One Jammy Man.
Flavour combinations
World Jampionships founder Tracey Baxter called on "Jambassadors" from across the world to take part.
She said: "Making jam is something that everyone can get involved in.
"It's a great way of making the most of our fruit crops and people can be as inventive as they like with flavour combinations.
"Jam making doesn't have to be complicated and most jams can be made in under an hour - and when you've made it yourself, you know exactly what you're eating."
Martin Grant, managing director of sponsors Mackays, said: "It's fantastic to get behind a project which supports the art of preserving and we will be encouraging those of all ages to take part in this year's competition."
Entries are accepted until 15 August, before the winners are announced at the annual Dundee festival on 6 September.