Loganair to link to Dundee to London with daily flights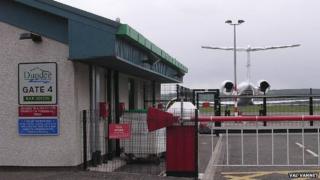 Air links between Dundee and London have been secured after funding was agreed between the city council and the UK government.
A public service obligation (PSO) has been agreed guaranteeing £2.85m from the new Regional Air Connectivity fund to keep the route open for two years.
Treasury secretary Danny Alexander said Dundee was a "key economic hub" in the Scottish economy.
Loganair will operate two daily flights on the route from July.
Dundee airport had faced uncertainty after Cityjet terminated its services to London City Airport in January.
However the future of the airport and the link with London has now been secured with the funding from the Regional Air Connectivity fund - the first of its kind in the UK.
'Economic hub'
The route requires a £3.2m subsidy, about £400,000 of which will have to be covered by the local council.
Councillors are expected to agree to the contract with Loganair and to pay the remainder of the subsidy at a meeting on Monday.
Mr Alexander said he was "delighted" to confirm the budget spending he announced last year would benefit Dundee.
He said: "Dundee is a key economic hub in Scotland's thriving economy.
"This will ensure that its key industries remain connected to rest of the UK."
UK Aviation Minister Robert Goodwill said regional airports had a "key role to play" in the "long-term economic plan" for the country.
And Dundee City Council leader Ken Guild encouraged as many people as possible to make use of the link to London.