Search after 12-year-old schoolboy attacked in Dundee street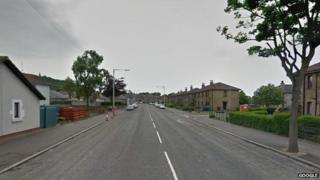 Police are searching for a man who launched an "unprovoked assault" on a 12-year-old schoolboy in Dundee.
The boy was left "extremely shaken" but unhurt after he was grabbed by the man, who pulled at his arm on Alpin Road between 12:45 and 13:30 on Wednesday.
Police are searching for the man, who was aged about 45, 5ft 8in tall and of slim build.
He was bald, with a cut above his right eyebrow and a missing front tooth, and was wearing a grey tracksuit.
Officers have appealed for witnesses.