Card skimming device found on two Angus cash machines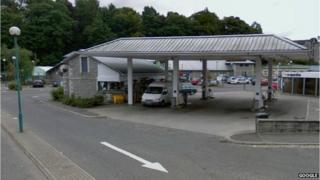 Police are investigating after a card skimming machine was found on two ATMs in Angus towns.
A device was found at a Co-op filling station in Forfar at midday on Monday, but was removed before police arrived.
Less than an hour later, a device was recovered from another cash machine, also at a Co-op, in nearby Friockheim.
Police want to trace a silver car which may have been at both scenes, as well as men seen acting suspiciously around the machines at the time.
Card skimming devices are used by fraudsters to obtain bank or credit card details and access to bank accounts.
A man alerted staff at the Co-op petrol station in Forfar's academy Street after he had problems using the ATM machine there shortly after midday on Monday.
Closer inspection revealed a skimming device had been fitted to the cash machine.
Police want to trace two men who were seen acting suspiciously at the machine minutes before and after the device was found.
A stocky, bald man with a flat dark cap, dark blue jeans was seen at the device just a few minutes before the man attempted to use the card.
Then, as the concerned member of the public spoke with staff, another man - of Eastern European appearance, with dark brown hair, light blue denim jeans and a light green jacket - was seen to approach the ATM before leaving. On checking, staff found the device was gone.
Concerns raised
Police also want to trace a sporty-looking silver car that was seen in the forecourt of the station at around this time.
A similar vehicle, possibly a Kia Venga, was seen a short time later in Friockheim, where a skimming device was recovered from the Co-op's ATM in Gardyne Street.
A woman raised concerns after failing to get cash from the machine at about 13:00. A device was discovered and passed to police.
Officers want to trace a man who was seen acting suspiciously at the machine at about 12.50pm. He was slim and wore a long-sleeved black top, light blue jeans and a green or grey baseball cap.
The man was seen getting into a small silver car, which was driven away.
A man with a white collar was also seen acting suspiciously at this vehicle that was parked across the road from the ATM at around the time of the incident.
A spokesman for Police Scotland's Tayside division urged members of the public to be vigilant when using cash machines.