Norwegian ship to honour hero sea dog Bamse in Montrose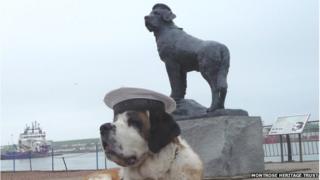 The Norwegian Navy is to visit Scotland to pay tribute to a war hero sea dog.
A Norwegian ship will dock at Montrose to mark the 70th anniversary of the death of Bamse, a Saint Bernard dog who became a legend as a naval mascot.
It is said Bamse saved the lives of two Norwegian sailors while stationed in Tayside during World War Two.
A celebration event including a parade, music and tours of the Royal Norwegian Coast Guard vessel Aalesund will take place on 21 July.
Bamse was enlisted as an official crew member of his master's ship, the Thorodd, when it was drafted into the Royal Norwegian Navy in 1940.
The ship escaped to the UK and became part of the naval opposition to the Nazis after the fall of Norway that summer, and was stationed at Dundee and Montrose as a minesweeper.
His exploits - which have since been immortalised in a book - include rescuing a sailor who had fallen overboard, and saving another from a knifeman by pushing the attacker into the sea.
He was also said to have regularly shepherded crewmen back to the ship from the pubs of Dundee.
Bamse was buried with full military honours after his death at the dockside in Montrose in 1944, and a life-size statue of the 14-stone dog was erected facing out towards Norway in 2006.
Every 10 years the Norwegian Navy sends a ship to Scotland to hold a commemorative ceremony for Bamse.
'A big day'
Dr Andrew Orr, chairman of the Montrose Heritage Trust and joint-author of a book about Bamse, said the Aalesund would get a "very warm welcome".
He said: "The presence of Bamse with the Norwegian Navy at Dundee and Montrose in World War Two has left an enduring reminder of the Norwegian contribution to the Allies, and of Scottish-Norwegian friendship.
"It is remarkable and wonderful that we are able to mark this 70 years after his death - it promises to be a big day for Montrose, for Dundee, for Angus and for Scotland."
The Aalesund will arrive on Tayside on Saturday, 19 July, and will be open to the public on the Sunday.
On the Monday morning, the ship's company will be joined by sea cadets from Stonehaven, Dundee and Arbroath, and the pipe band of Lathallan School, Johnsaven, in a parade along Wharf Street to the Bamse statue.
Guests at the commemoration event there will include veterans from Britain, Norway and Canada, the Lord-Lieutenant of Angus, Georgina Osborne, Angus Provost Helen Oswald, and officers of the Norwegian and British navies.
Members of the public are encouraged to bring their dogs along to the event.