Cultybraggan prisoner of war camp march to be re-enacted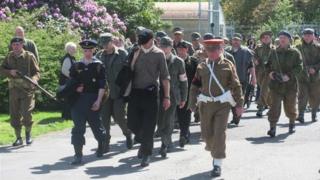 A re-enactment of German soldiers marching to a Scottish prisoner of war camp is to be staged.
A history group will dress up in World War Two uniforms and march to Cultybraggan Camp, near Comrie, singing patriotic German songs.
The camp housed up to 4,000 German prisoners during the war.
Sunday's march will launch an open day at the camp featuring vintage military vehicles, pipe bands, remote control tanks and guided tours.
The march recreates the journey of prisoners from the village train station to the camp, which housed some high-ranking Nazis including a brief stay for Hitler's deputy Rudolf Hess after he parachuted into Scotland.
Heritage group
The event is being staged by the Comrie Heritage Group, which was set up in 2007 to help look after the camp.
The group's Blair Urquhart said Cultybraggan - and the prisoners passing through it - had made a big impact on the life of the town.
He said: "In 1944 they arrived in Comrie railway station, about two miles away from the camp, and they were marched through the village.
"There were up to 4,000 prisoners towards the end of the war - there must have been trains of prisoners coming through all of the time.
"It's amazing the number of people in the older generation who say, 'I was here when that happened, I remember this', and all the stories come out.
"It wasn't just during the war - there were prisoners out working in the area right up to almost 1960, before the last one was repatriated back to Germany.
"There are a lot of stories too about prisoners who stayed on, and married Scottish girls - we've had a few come back to visit."
One prisoner, Heinrich Steinmeyer, developed such strong feelings for the area that he bequeathed his life savings to the people of Comrie.
The 90-acre camp - one of three preserved prisoner of war camps surviving in the UK - was bought in 2007 by the local community.
Around 20 people took part in a march last year, which Mr Urquhart called a "trial run".
"We got in touch with a group in Greenock who did re-enactments of German soldiers, which is quite unusual, and we came up with the idea of marching to the camp," he said.
"A thousand people came to watch last year, and we're expecting double that this year."
The free open day at the camp runs from 11:00 to 16:00 on Sunday, with food and drink available, along with entertainment from the Scottish Military Vehicle Group, the Black Watch Museum, the Strathearn Pipe Band, the Comrie Brownies - who are celebrating their centenary - and a dance company specialising in 1940s dances.