Computing teacher jailed over shower video of pupil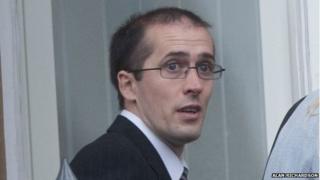 A teacher has been jailed after he set up a hidden camera to secretly film a pupil in the shower.
Gordon Milne, an IT teacher at Forfar Academy, was found with more than 1,500 indecent images of children on his computer when police raided his home.
He admitted charges of possessing and taking indecent photographs of children, including the video he made of a 17-year-old girl in the shower.
Milne, 33, who has been sacked by Angus council, was jailed for 18 months.
He claimed he downloaded the pictures out of "professional curiosity" after another Angus-based teacher was caught with a huge stash of pictures and videos.
Officers received information in January 2013 that Milne had been accessing indecent images of children, and obtained a warrant for his home in Forfar.
They seized two laptops and a mobile phone and found the video of the 17-year-old girl, who Milne's wife was able to identify as a pupil at the academy.
Milne had set up a hidden camera in a communal bathroom during a rock climbing expedition in Derbyshire.
Guilty plea
Fiscal depute Keith Robertson told Dundee Sheriff Court: "The accused and the girl shared a rock climbing hobby and were regular climbing partners.
"On his mobile phone the footage was found and Milne can be identified setting up the recording device, which appears to have been his mobile phone.
"In total 1535 indecent images were recovered as well as 13 videos."
Milne pleaded guilty on indictment to possessing indecent photographs of children and taking or making indecent photographs of children between November 2011 and January 2013.
George Donnelly, defending, said Milne had become curious after hearing about a former teacher who was jailed for possessing child pornography, and had searched online using the same terms.
'Grovelling apology'
He said: "In terms of the other charges, the filming of a former pupil with subterfuge involved are different altogether.
"He can offer no explanation for his actions other than attraction to her.
"He offers his complete and utter grovelling apology to the young lady and all of those affected by his behaviour.
"He has lost his career - he will be struck off and he has no employment prospects."
Sheriff Tom Hughes said Milne's abuse of the young girl was "heartbreaking".
He jailed him for 18 months, with a year on licence when he is released from prison, and placed him on the sex offenders register for 10 years.