Loch Leven 'unlocked' by new heritage trail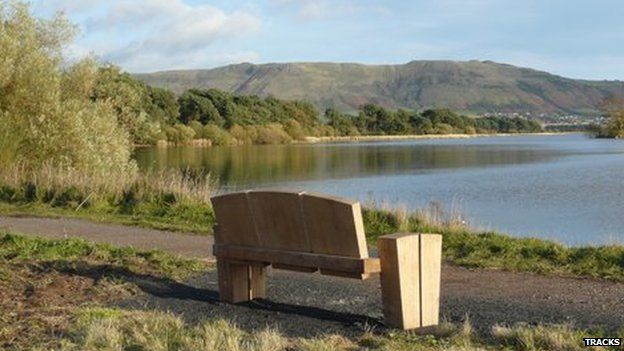 A new heritage trail round Loch Leven in Kinross-shire has been opened to the public.
The route is a 13 mile (21km) off-road path which links more than 30 natural and cultural heritage sites.
The completion of the trail marks the final phase of a five-part, 10-year conservation project costing £3m.
The path links all previous routes around the loch meaning walkers and cyclists can now make a complete circuit.
The project has been managed by charity Tracks (The Rural Access Committee of Kinross-shire) which aims to work on projects which enhance the area's natural environment.
Funding for the project was secured from a number of national local agencies including the Heritage Lottery Fund, The Gannochy Fund and Sustrans.
Councillor Willie Robertson, who represents Kinross-shire and is the chairman of Tracks, said: "The heritage trail project has brought together communities around the loch and has provided a strategic link with other access networks developed by the local groups.
"The trail helps to promote healthier lifestyles and is a resource accessible to all. Its popularity has been immense and it has made a significant contribution to the local economy".
One of the key aims of the project was to help preserve the area's wildlife which contains the largest concentration of breeding ducks in inland Europe as well as tens of thousands of winter geese.
Martin Auld, RSPB Scotland regional director, said:"It's great to see the trail now it's complete and RSPB Scotland is very pleased to be part of it."
"I'm sure the trail will help even more people enjoy the wonderful wetland wildlife, fabulous views and peaceful surroundings of the loch."
The new route is expected to bring additional tourism to the area.
A special opening ceremony was held to mark the opening of the new trail which featured the key to Loch Leven Castle.
The key has a special significance to the area as historians believe it was used by Mary Queen of Scots in her escape from the castle.
Cyclists and walkers took part in a symbolic journey around the route, bringing keys from various groups and communities.
After the opening ceremony 600 schoolchildren joined a sponsored walk along the new path.
Related Internet Links
The BBC is not responsible for the content of external sites.