Fire death accused Ahmad Yazdanparast denies setting ex-wife on fire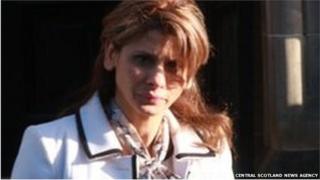 A man accused of murdering his ex-wife by setting her on fire told a court he had just taken her a bottle of milk when there was an explosion.
Ahdie Khayatzadeh died after suffering serious burns at Venus Hair and Beauty in Stirling on 12 October last year.
Ahmad Yazdanparast denies pouring petrol or another flammable liquid over her head and body and igniting it.
He told the High Court in Edinburgh she was not on fire when he left the salon.
Mr Yazdanparast, 61, said his wife had thrown something at him, hitting him on the face.
He said it was not petrol, but smelt like burning hair or feathers.
"I felt under my nose is burning, under my chin is burning," he said.
He said his ex-wife was crouching down near a sink in the basement salon. He went to help her but there was an explosion.
He told the court: "She was not on fire. Definitely 100% she was not on fire. Definitely at the time I left she was not on fire."
He was asked whether a lighter found close to where he was lying after the incident was his and replied: "I don't think so. If I have lighter it is not broken."
The couple, both originally from Iran, split up in 2010 before divorcing last year.
Mr Yasdanparast said he still loved her and that she was in his dreams at night.
"Up to now she is still in my heart," he said.
The trial before Lady Wise continues.