Campaign to restore historic Airlie Monument in Angus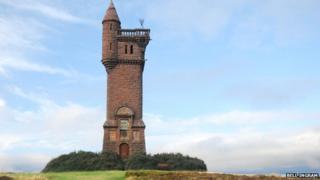 A campaign has been launched to restore one of Scotland's national landmarks.
The Airlie Monument, which stands in the Angus hills, is suffering from water damage and erosion.
Work is needed to prevent further damage to the 65ft monument which was built in memory of the ninth Earl of Airlie who was killed in the Boer War in 1900.
Conservation specialists Bell Ingram hope the site can be used for recreational and educational purposes.
Director Susan Burness said: "It is important that the Airlie Monument is restored to its original state.
Repair costs
"The building is an important landmark for both locals and visitors and we want to ensure that they have full access to the building once again."
It is hoped the restored structure, which is a popular destination with walkers, could help increase public knowledge of the Boer War.
There are plans to convert one of the rooms at the site on Tulloch Hill, near Kirriemuir, as a Boer War visitor interpretation centre.
It is estimated that repairs would cost in excess of £150,000 and take six months to complete.
Bell Ingram have approached Historic Scotland and hope to gain funding through grant assistance available for war memorials.