Security concerns over Ryder Cup course area access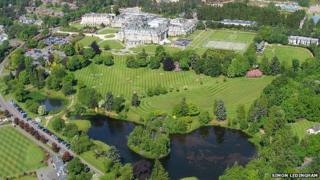 Access to the area around the Ryder Cup venue at Gleneagles is to be cut off amid security fears.
Perth and Kinross Council has agreed measures including cutting off access to public footpaths due to concerns about terrorism and protests.
Public paths and parts of a neighbouring golf course, riding school and hotel will all be closed off for 50 days leading up to the event.
September's Ryder Cup is forecast to bring £100m into the local economy.
In a report to councillors, local authority environment chief Keith McNamara warned there was a "significant risk to the Ryder Cup" if the access exemption was not granted, as it "could compromise the safety and security of the event".
'Potential target'
Ryder Cup Europe's application, which was approved by the environment committee, said the measures would "minimise disruption or disturbance" for the local residents, while achieving a "secured perimeter" accessible only by ticket holders and staff.
It reads: "The Ryder Cup, like all major and sporting international events, is a potential target for hostile action by terrorist, environmental or other protest activity.
"Additional CCTV and IT-based warning systems will be implemented, supported by additional personnel throughout the day and night. The effectiveness of these measures will be significantly reduced if the general public have access to the area.
"To optimise the effectiveness of these security measures and reduce potential risks to public safety before, during and after the event, it is essential to restrict public access to the event footprint and along core paths."
Play at the neighbouring Auchterarder Golf Club will be restricted during the tournament, as there are fears wayward shots from local players could stray on to the championship course and endanger the Team USA and Europe stars.