Bo'ness ironworks revived by family firm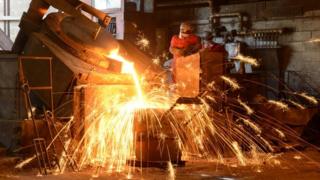 A Forth Valley ironworks has been revived by a new firm from the family which ran it for 150 years.
The Ballantine Bo'ness Iron Company shut down last year, but a new business has been set up to take on the plant by Gavin Ballantine.
The 29-year-old is the son of the former managing director of the plant and it means seven generations of ironcasters have run the facility.
Ballantine Castings is aiming to employ 32 staff, with a £3m annual turnover.
The start-up business has acquired the land and assets of the old company, which folded last September after 150 years of trading around the world.
Mr Ballantine said the launch of the new firm was "an important day for local business".
Local expertise
"We're excited about the future, and are already optimistic about growth plans across core markets such as rail, machinery, ornamental ironwork and drainage castings," he said.
"This area of Scotland used to be home to 143 foundries and was one of the most significant wealth generating employers in the area.
"There are now only a handful of foundries in the whole of Scotland, but by drawing on the area's proud heritage of iron founding and the historic passion and pride for quality workmanship we aim to produce some of the highest quality products anywhere in the world, which means we can successfully compete with cheaper suppliers in Asia."
The business plans to drive its initial growth through projects in the UK, but will also be looking abroad to Scandinavia and the Middle East for contracts.
Among the 32 employees the firm aims to take on will be four apprentices.
The new company received assistance of £98,000 from Scottish Enterprise as an investor contribution, as well as support from Falkirk Council business agencies.
Enterprise Minister Fergus Ewing said the launch of the ironworks was "great news" for the future of the industry.
Dennis Goldie, Falkirk Council's spokesman for economic development, said it was important for the local authority to back new start-ups in local business such as the foundry.
"It not only provides a future for highly skilled workers in this area, but also represents a success for the wider ironworks industry," he added.