Forth Valley police seize counterfeit goods worth £2m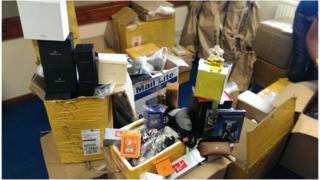 Police seized counterfeit goods with a retail value of almost £2m after a pair of raids in the Forth Valley.
CID officers teamed up with Trading Standards and anti-counterfeiting groups to search addresses in Bonnybridge and Falkirk.
They found fake items including Rolex, Tag Heuer and Armani watches, Ray Ban sunglasses, DVD box sets and Hermes jewellery.
A man and a woman, both aged 28, have been reported to the procurator fiscal.
The Federation Against Copyright Theft (Fact) and the Anti Counterfeiting Group (ACG) were also part of the team which carried out the raids at the house in Bonnybridge and a business premises in Falkirk.
'Significant success'
Police Scotland's Insp Paul Rollo said the operation was a "significant success".
He added: "This operation provides further evidence that Police Scotland and our partner agencies are determined to identify people responsible for illegally selling fake goods at inflated prices on the internet and elsewhere."
Kieron Sharp, director general at Fact, also welcomed the outcome to the searches.
He said: "Criminals are using the internet to sell counterfeit goods in large volumes.
"This criminal activity directly harms legitimate businesses and threatens the livelihoods of all those working in the creative industries as well as those employed by cinemas, retailers, distributors and legitimate online platforms."