Hundreds of artists display work at Dundee degree show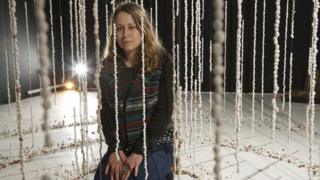 Dundee University's art school degree show is showcasing the talents of hundreds of young artists.
The show has everything from fine art and sculptures to animation and lasers.
For one exhibit, a student spent eight months hand-crafting 20,000 clay beads, which are suspended from the ceiling and across the floor like a waterfall.
The event at the Duncan of Jordanstone College of Art and Design is projected to attract 10,000 people to the city, and is worth £1m to the local economy.
The annual event exhibits the work of final year students at the university in a week-long showcase.
The school's alumni include Turner Prize winner Susan Philipsz, Young Scottish Designer of the Year 2012 Hayley Scanlan, and film-maker David Mackenzie.
'Zen-like experience'
This year's students have created a range of works from right across the artistic spectrum, from intricate paintings and sculptures to jewellery-making and product design to animation and video-ba sed art.
The painstakingly hand-crafted display created by Jay Frazer is made up of almost 20,000 individual clay beads, which form a waterfall-like effect, suspended from the ceiling and placed across the floor.
She said the "fluid" words were influenced by nature, and were intended to create a "zen-like experience" for the viewer.
Other artists take inspiration from nature, and even the human body itself - as in the case of Alice Maselnikova, who created a huge seat suspended from the ceiling, designed to resemble the inside of the womb.
A more technological approach was taken by Sarah Calmus, who built an interactive installation utilising lasers, lights - and some string.
Each artist has a space across the art school's two buildings and 14 floors to display their work, with 245 students from 11 undergraduate programmes on show.
Digital interaction design, textile design, interior environmental design, time-based art, animation and illustration are among the disciplines on show.
Jeanette Paul, acting dean of the art school, said graduates "consistently prove themselves to be among the best in the country".
She added: "Degree Show is always a special time for the university community, and indeed the whole city, and I'm sure the thousands of visitors who flock to DJCAD will once again be impressed by what they see."
The free exhibition runs until Sunday 25 May, open from 10:00 to 20:00 on weekdays and 10:00 to 16:00 on weekends.