Volunteers wanted for army in Bannockburn battle mural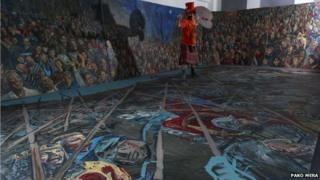 An artist is looking for volunteers to join Robert the Bruce's army in a massive mural of Bannockburn.
Chris Rutterford is creating the 9m (30ft) by 4m (13ft) artwork to mark the battle's 700th anniversary.
People who send pictures of themselves in through the project's Kickstarter page will be immortalised at the heart of the action as soldiers.
The mural will be exhibited at the Edinburgh festival and in the Bannockburn heritage centre.
Mr Rutterford has created a number of giant artworks in recent years, including a 20m (65ft) long Tam O'Shanter mural and a 17m (55ft) portrait of Hogmanay celebrations in Edinburgh.
He says the aim of his latest project is to build up the Bruce's victorious army "from the genes of their ancestors".
"In the past when I've built crowd paintings I've always taken the picture myself, this time round we have done it a bit differently," he said.
"The team have set up a crowd funding website on Kickstarter and are hoping that reinforcements will come to us.
"It just seemed like a really obvious, fun way to build the army. We're hoping there are still plenty of people up for the fight."
Historic battle
The larger the contribution people make towards the cost of the project through Kickstarter, the bigger the role they will play in the finished mural, with portraits from half an inch to several feet in size available.
Scotland rugby star Alistair Kellock bought himself a space right at the Bruce's side in a charity auction for the Princess Trust for Carers.
"At 6ft 8in I'm pretty sure he's just the sort of character Robert would want on his shoulder," said Mr Rutterford.
As well as taking up a spot in the Bannockburn heritage centre next year, the mural will be exhibited at an interactive Bannockburn-themed event at the Scottish Storytelling Centre on the Royal Mile in Edinburgh in June.
The painting is one of a number of activities this year marking the anniversary of the historic battle, including Bannockburn Live, a two-day festival of events and re-enactments.